Innovative Prior Learning Assessment Best Practices Institutions Announced
On July 27th, 2016 three Texas institutions of higher education were awarded recognition as a Prior Learning Assessment (PLA) Best Practices Institution. The honorees were selected after submission of a competitive application for recognition requiring institutions to describe quality innovative PLA model strategies that are new and emerging at their institutions, have been developed or enhanced at their institutions, or mirror effective practices that can be replicated by other institutions. Eligible applicants were Texas colleges or universities who also participated in at least one PLA Project Prior Learning Assessment Training event sponsored by the Carl Perkins State Leadership PLA Portal Project collaborative during the 2015-2016 academic year. Lone Star College, Houston Community College and Collin College were recipients of the awarded recognition. Additionally, Central Texas College was awarded and recognized as an Innovative Military Prior Learning Assessment Best Practices Institution in August. Congratulations to our Texas institutions for their development of outstanding prior learning assessment options to advance Texas students through postsecondary education and to employability.
---
Prior Learning Assessment Day

Conferences and Training Events
---
Trying to determine how to implement Prior Learning Assessment (PLA) at your college or university?
Want to know more about the Prior Learning Assessment options available to you through the American Council on Education (ACE) and the Council on Adult and Experiential Learning (CAEL)?
Looking for tips and lessons learned from a Texas higher education institution that has implemented PLA district-wide?
The goal of the professional development component of the PLA Portal Project is to provide an overview of Prior Learning Assessment for Texas higher education institutions, that leads to informed decision-making on the use of PLA to support students as well as accelerate certificate and degree completion. PLA professional development activities are designed to support growth of career and technical education counselors, administrators, and faculty in the development and use of prior learning assessment and competency-based education strategies. 
---
Unable to Attend a Day Conference Event In Person?
The PLA Portal Project is on Facebook and Twitter.
Click here for pictures of PLA conferences and Training Events.
You can also view videos of training sessions facilitated at events below. Please let us know your training needs by completing the needs assessment survey at: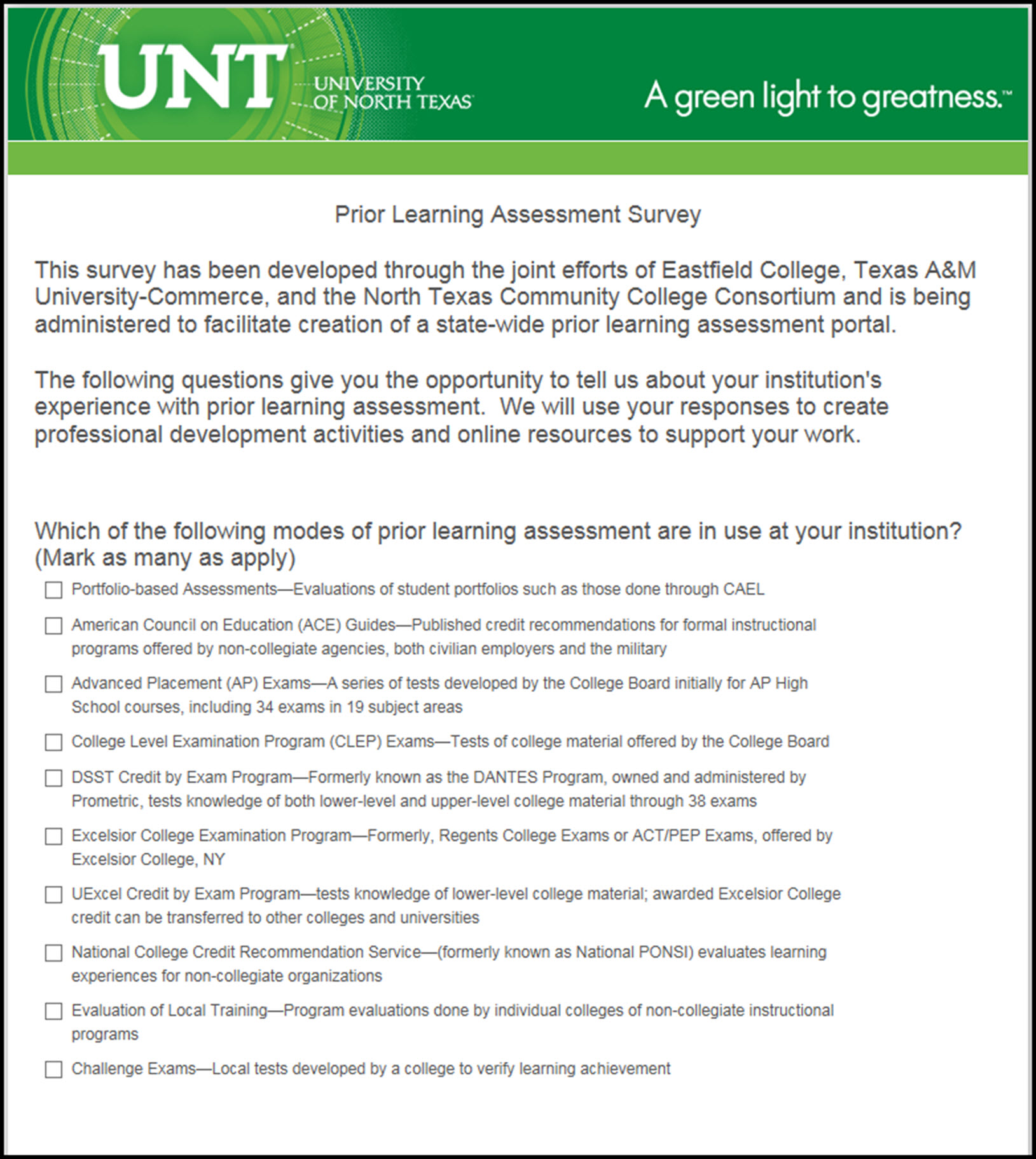 ---
COMPENDIUM OF TRAINING VIDEOS
Prior Learning Assessment Day Conference Sessions
Christopher Johnson, American Council on Education - "Credit for Prior Learning: Moving the Attainment Needle"

Day Conference for Administrators

December 2, 2015 -

St. Philips College

Scott Campbell, Council of Adult and Experiential Learning (CAEL) - "Prior Learning Assessment: Adult Student Success

Day Conference for Administrators

December 2, 2015 -

St. Philips College

Wendy Erisman and Steven Taylor - American Council on Education and Strix Research - "Serving the Post-traditional Student through Recognizing Prior Learning"

Day Conference for Advising Personnel

February 5, 2016 -

Texas A&M University-Commerce




Wendy Erisman and Steven Taylor - American Council on Education and Strix Research -

"Putting PLA Into Practice at Your Institution"

Day Conference for Advising Personnel

February 5, 2016 -

 

Texas A&M University-Commerce




"Lessons Learned in Implementing PLA"

 

"Developing a PLA Model" Clinic

March 24, 2016 -

Houston Community College

"Institutional Policies and Procedures"

"Developing a PLA Model" Clinic

March 24, 2016 -

Houston Community College

Judith Sebasta, Institute of Competency-based Education - "CBE 101 and the Relationship between CBE and PLA"

PLA & Competency-based Education Day

April 15, 2016 -

TAMUC at Dallas

Kevin Fegan, Northwood University - "PLA at Northwood University: Considerations When Thinking about PLA"

PLA & Competency-based Education Day

April 15, 2016 - TAMUC

at Dallas

Rex Peebles, Texas Higher Education Coordinating Board - "CBE/PLA: The Role of the Coordinating Board"

Faculty Coordinators & Admin. Conference

May 6, 2016 -

Austin Community College

Beth Doyle, Council of Adult and Experiential Learning (CAEL) - "Getting to Scale with PLA: Increasing Visibility and Access for Texas Students"

Faculty Coordinators & Admin. Conference

May 6, 2016 - Austin Community

 College

Amardeep Kahlon, Austin Community College - "Best Practices in Competency-based Education and Prior Learning"

Faculty Coordinators & Admin. Conference

May 6, 2016 -

Austin Community College

Madeline Burillo, Houston Community College - "PLA: A College Journey of Transformation, Collaboration, and Communication"

Faculty Coordinators & Admin. Conference

May 6, 2016 -

Austin Community College

Ron Sanders, Texas State Technical College -

"Marketable Skills Alignment"

Faculty Coordinators & Admin. Conference

May 6, 2016 -

Austin Community College

Lakisha McDowell-Bates and Sagan McClure, Lone Star College - "Collaborative Approach to PLA Program Design"

Faculty Coordinators & Admin. Conference

May 6, 2016 -

Austin Community College

Christopher Johnson, American Council on Education - Developing a PLA Model Coaching Session


"Developing a PLA Model: Professional Development Clinic"

June 10, 2016 - Amarillo College


Kathleen Fenton, Collin College; Delores Jackson, Midwestern State; Chris Johnson (ACE) - Panel Discussion, Lessons Learned Implementing PLA


"Developing a PLA Model: Professional Development Clinic"


June 10, 2016 -

Amarillo College

Kevin Sightler, (SACSCOC) - How PLA fits into the Principles of Accreditation


"Administrators, Faculty Coordinators, and Advising Personnel PLA Day Conference"

July 15, 2016 -

Eastfield College

Apurva Naik, College Credit for Heroes/TWC - Awarding College Credit for Military Experience


"Administrators, Faculty Coordinators, and Advising Personnel PLA Day Conference"

July 15, 2016 -

Eastfield College

Amy Sherman, (CAEL) - Addressing Adult Learners Needs Through PLA


"Administrators, Faculty Coordinators, and Advising Personnel PLA Day Conference"

July 15, 2016 -

Eastfield College

Christopher Johnson, (ACE) - Moving the Attainment Needle with Credit for Prior Learning


"Administrators, Faculty Coordinators, and Advising Personnel PLA Day Conference"

July 15, 2016 -

Eastfield College

PLA Roundtable


"Administrators, Faculty Coordinators, and Advising Personnel PLA Day Conference"

July 15, 2016 -

Eastfield College

Christopher Johnson, (ACE) - Awarding Credit for Military Training and Experience


"Career Tech & Military Training Assessment Day"

August 3, 2016 - Central Texas College


Johnelle Welsh/Brigitte Flynt - Innovative Tools to Evaluate Military Education & Experience


"Career Tech & Military Training Assessment Day"

August 3, 2016 -

Central Texas College

Apurva Naik, College Credit for Heroes/TWC - Awarding College Credit for Military Experience


"Career Tech & Military Training Assessment Day"

August 3, 2016 -

Central Texas College
Other Webinar and Video Training Resources
American Council on Education (ACE)




Creating a Quality

Alternative Credit

Ecosystem for Higher Education


to see a special ACE Video

from April 20, 2016

The American Association of


Collegiate Registrars and

Admissions Officers (AACRAO)

Prior Learning Webinar Series